THETFORD'S PREMIER INDEPENDANT
REPAIR & MOT CENTRE

Cunningham Motors Limited, Station Lane
Thetford, Norfolk IP24 1ND



(Behind Thetford Railway Station near the low bridge)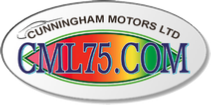 8:30am - 5.00pm Mon - Fri




BG PRODUCTS
Former Stig Ben Collins tests BG Products on his own Land Rover! BG Products have teamed up with the Former Top Gear Stig, Ben Collins to highlight to motorists that clean engines work better.
You may have seen adverts from the big fuel companies talking about a percentage of additive added to their premium fuels to tackle deposits. BG recommend the more dedicated, dual approach – one product to treat the fuel system and a second to revitalise the vehicle's oil system.
Deposits are a natural by-product of combustion and, without preventative maintenance, accumulate over time.
The Guaranteed BG Fuel Saving Service comprises:
BG 245® Fuel System Cleaner (or BG 44K® for Petrol) goes in the tank to clean the fuel system. It's vitally effective at cleaning carbon-covered fuel injectors
BG EPR® Engine Performance Restoration® flush softens and dissolves hard-to-remove deposits from piston rings, restoring peak compression, ensuring maximum power and efficiency.
​If we supply a BG Fuel System Cleaner and BG EPR® Compression Restoration Flush and you do not notice any improvement in your vehicle's performance or economy we'll give you a full refund - Guaranteed! (Money-back guarantee subject to vehicle been driven at least 500 miles and claim made within 3 months of purchase)
Search online for top-selling BG44K reviews from around the World – BG Products are used in 3 times more garages in the US than any competitor!
We also offer the BG Powerflow Air Intake Cleaning Service. This utilises BG's own-designed delivery system to inject their high quality chemistry for a more intensive carbon clean of a vehicle's critical components. Watch Ben's test of this: