THETFORD'S PREMIER INDEPENDANT
REPAIR & MOT CENTRE

Cunningham Motors Limited, Station Lane
Thetford, Norfolk IP24 1ND



(Behind Thetford Railway Station near the low bridge)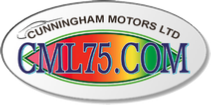 8:30am - 5.00pm Mon - Fri



BODYSHOP
Here in our bodyshop we repair vehicles for most of the major insurance companies. We also undertake private commissions
ACCIDENT REPAIRS
In the event of an accident you, the customer, have the final choice of where your car is repaired.
Most insurance companies use a network of "recommended repairers" and they will try and convince you that you should only take your vehicle to them.
It is YOUR RIGHT as the policyholder and owner of the vehicle to choose who carries out the repairs. This has been agreed with both the Office of Fair Trading and the Association of British Insurers.
We can supply you with free estimates and assist you with your claim if required.
We also cater for small repairs such as scratches & dents in addition to fitting bodykits and spoilers.
OUR GUARANTEE
We use manufacturers genuine parts and guarantee our repairs for:
3 YEARS
and for the
LIFETIME OF THE VEHICLE
on PAINTWORK REPAIRS.
Our staff are happy to provide on the spot help & advice.