THETFORD'S PREMIER INDEPENDANT
REPAIR & MOT CENTRE

Cunningham Motors Limited, Station Lane
Thetford, Norfolk IP24 1ND



(Behind Thetford Railway Station near the low bridge)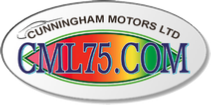 8:30am - 5.00pm Mon - Fri LET US HELP FIND YOUR NEXT VEHICLE
Buying a car is one of the highest cost purchases people can make apart from their home. CML are able assist customers in finding the right model at the right price including part exchange offers.
Being independent, we can give you impartial advice over any car purchase.
If you are having trouble finding an elusive used car. CML have access to some of the largest data bases of used car stocks and can save you time and money in you search. We can advise as to whether what you are trying to locate is realistic, or whether their may be more suitable alternatives.